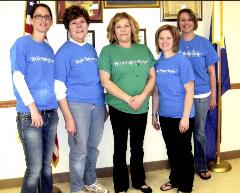 "People Helping People" is the philosophy upon which credit unions are founded on. Our members are the heart of our credit union and the sole purpose for our existence. We continue in that philosophy by providing our members our best services, low fees and competitive loan options. We believe that we are "The KEY to your Financial Future!"
The CU Kids Christmas Program
Every year after the Thanksgiving holiday, we put up a special tree in our lobby. The tree is decorated with lights and decorations but also with envelopes. These envelopes hold the needs of some of our local children. We receive a list from various agencies in the area, including the Caring House and social services. Members of the community come in and pick an envelope from the tree, purchase gifts for the children, wrap and return them to the credit union. The families are notified when to pick the gifts up. Over the years, this program has helped over 3,000 local children have a better Christmas. We could not have done this without the help of our community. Thank you!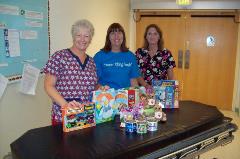 CU Kids Program
In 1994, the CU Kids program was established. This program provides small gifts for the children in the Caring House and the Pediatric Ward, Emergency Room and Walk-In Clinic at the Dickinson County Memorial Hospital. We have donated various items such as televisions, DVD players, books and kids table and chairs.
Academic Student of the Month
We celebrated our 60th Anniversary in 2008 and to help celebrate we started Academic Student of the Month. This is a new t-shirt recognition program for the Iron Mountain, Kingsford and North Dickinson schools grades third through twelfth. We provide t-shirts for each grade at each school every month. The schools pick their winners for the month. The front of the shirts feature the school's chosen (designed) logo with the "Academic Student of the Month" in the schools colors, with our credit union logo on the back!