MEET YOUR BOARD OF DIRECTORS

KATHARINE BARNES, CHAIRPERSON
Katharine has served as 2nd Vice Chairwoman and also as Director for 4 years. She has been a member of IMKCFCU for 48 years and has more than 27 years of skilled and dedicated service as an Administrative Assistant. Katharine is a member of St. Mary & St. Joseph Catholic Church and is a Lector and Collections Counter. She is an active member of the IM-K Kiwanis Satellite Group and volunteers for many community activities, enhancing the lives of community members. Katharine has been married for 28 years to Steven and they have 2 grown children, Kristina and Derek.
RICHARD LARSON, 1ST VICE CHAIRMAN
Richard was born and raised in Kingsford and is a 1979 graduate of Kingsford High School. He attended Michigan Technological University and graduated with a B.S. in Electrical Engineering. He has been on the management staff at We Energies his entire professional career, obtaining his Professional Engineer license in 1988. During his time at We Energies, Richard has been responsible for planning, budgeting and executing strategic electrical infrastructure improvement projects. He has also supervised across the organization and received accolades for special assignments in difficult situations. He has served multiple terms as President and as Vice President of the IM/K Lions Club and currently serves as Treasurer. Richard has served on the Board of Directors of We Energies Employee Mutual Benefit Administration. He is a past member of the American Heart Association local Board, Board of Governors of the Chippewa Club, is active in the Dickinson Area Chamber Alliance and volunteers in organization efforts for the Iron Mountain Main Street.
KAREN WEINERT, 2ND VICE CHAIRPERSON
Karen has been a member of IMKCFCU for over 40 years. She has over 30 years of work experience encompassing accounting, real estate, appraisal services, investment stock trading and city tax assessing. During her career, Karen also maintained a real estate license, State of Michigan Assessor's License, Michigan Appraisal License and was the Secretary/Treasurer of the Upper Peninsula Assessors Association & Education Board. Karen is a graduate of Dale Carnegie with a degree in Effective Speaking and Human Relations. She continued her education at Dickinson Iron Technical School, Hollow Institute, Upper Peninsula Assessors Association, Northern Michigan University and Bay de Noc graduating with a degree in Accounting and Computers.

DANIEL WENTARMINI, TREASURER
Daniel has served as Director for 5 years and is currently the Chief Financial Officer and Director of Champion, Inc. He is a graduate of Northern Michigan University, Magna cum Laude, with a degree in Accounting. Daniel is a past Director of Kiwanis Club and Knights of Columbus as well as past Finance President of St. Mary and St. Joseph Church. He also is President of the Chippewa Club and Director of Northern Lights YMCA and a Navy Veteran. He also is a member of the Iron Mountain-Kingsford Rotary Club.

DONNA PETERSON, SECRETARY
Donna has served on the Board of IMKCFCU for 4 years as well as Supervisory Committee. She holds an MBA from the University of Dubuque with a concentration in finance. Donna graduated from Buena Vista College in Storm Lake, Iowa, with a Bachelor of Arts Degree in Accounting. Her previous employment includes Lennox Employees Credit Union as an Accounting Officer, Marshalltown Trowell as an Accountant and Marshalltown Medical and Surgical Center as Director of Physician Support Services and Cost Accountant.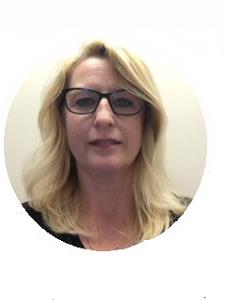 CINDY METRAS, DIRECTOR
Cindy joined the CU Board recently with over 18 years experience in the accounting industry. She has a Bachelor of Science degree in Accounting from Lake Superior University as well as a Master of Business Administration, Finance major, from Lakeland University. Cindy has spent that past 18 years as Plant Controller at Specialty Granules, Inc. in Pembine. Prior to that, Cindy managed all accounting, cash, payroll and collection operations at CSA Air, Inc. at the Ford Airport.